1. TOURNAMENT BRACKET
There will be no tournament bracket involved.
2. TOURNAMENT COMMUNICATION
All teams and players are required to like & follow the Cutting Edge Facebook page to stay up-to-date with the latest information regarding the tournament.
3. PLAYER COMMITMENT
3.1. – By submitting a registration for the Free Fire tournament, all players acknowledge without limitation to comply with the rules set herein and especially with the decisions made by the Tournament Staff.
3.2. – All competitors are expected to know and understand all the rules described here. Not knowing that a rule existed or that it was in place will not be considered as an acceptable reason for breaking said rule.
3.3. – Emulator players are allowed to participate in the tournament.
3.4. – Participants are to utilize their own accounts, and their own unique survivor name, for competing in tournaments conducted by Garena. Each participant will be locked to his/her registered player account for the remainder of the tournament, and will not be allowed to switch to another player account under any circumstances.
3.5. – A minimum account level requirement is imposed. All player accounts have to be at least Level 10 at the time of registration in order to be eligible for registration.
3.7. – No rank requirements are imposed for registration.
4. TOURNAMENT FORMAT
4.1. – The tournament will be held on Custom Rooms.
4.2. – Teams will be divided into 2 groups.
4.3. – Groups
4.3.1. – There will be 24 teams and they will be divided in to 2 groups 12 teams each. Top 6 teams from each group will be qualified for the Finals.
4.3.2. – If 12 or less teams have registered, they directly play the final group.
5. MATCH SCHEDULE
5.1. – Players are expected to be present at the exact times for their matches as announced.
5.2. – After groups are made, new players will not be added into any group.
5.3. – Only a 10 minutes' grace period will be provided for teams to be present for their matches.
5.4. – Tournament Organizers will make every effort to inform players of scheduled match dates and times – but please note it is the responsibility of the players to make sure they arrive on time for their matches. Tournament Organizers will not be responsible to inform matches to players individually or provide reminders. Not attending a match due to not being informed of the schedule is NOT an excuse.
6. GAME RULES
6.1. – Game Format
All players need to enter the Free Fire Room ID and Password to join the lobby.
6.2. – Match Format
6.2.1. – For all qualifying rounds (until the grand finals), each group will play 1 match in a random map.
6.2.2. – For the grand finals also there will be a 1 match in a random map.
6.2.3. – All matches will be played until a "BOOYAH" is achieved.
6.3. – Matchmaking Settings
The following matchmaking settings apply:
– Team Size: 4 players
– Map Pool: Random
– Server Location: Singapore
– HP: 200
– Movement Speed: 100%
– Environment: DAY
– Fall Damage: Yes
– Airdrop: Yes
– Vehicles: Yes
– UAV: Yes
– EP: 0
– Jump Height: 100%
– Limited Ammo: Yes
– Loadout: Yes
– Character Skill: Yes
– Gun Property: Yes
– Airstrike: No
– Death Spectate: No
– Save Replays: Yes
– Hide Nickname: Yes
6.4. – Scoring
Scoring will be for each game and be based on each team's final kill count and in-game placement as set forth below:
1 kill = 2 points
Placement Points Placement Points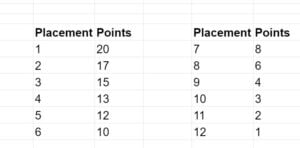 6.5. – Ties
If there are two or more teams tied on points at the end of a series, the following rules shall be applied to break the tie:
1. Compare every tied Team's total Kill Points across all Matches
2. Compare every tied Team's best-performing Match based on Match Points
3. Compare every tied Team's best-performing Match based on Kill Points
4. Compare every tied Team's Kill Points in the most recent Match
5. Compare every tied Team's Placement Points in the most recent Match
7. GAMEPLAY RULES
7.1. – Team Size
7.1.1. – A Team has to consist of at least FOUR players.
7.1.2. – Up to TWO substitute players can also be registered for each team.
7.1.3. – Each player can be registered and can subsequently play for only one team during the tournament.
7.2. – Substitutions
7.2.1. – The substitute player/s must be registered with the team prior to the tournament starting.
7.2.2. – Use of a substitute player must be informed to the Tournament Staff well before the start of the scheduled match.
7.2.3. – The use of non-registered, suspended, or otherwise ineligible players in a match is not allowed under any circumstances.
7.2.4. – Doing so will result in a suspension or extended suspension of the individual in question, suspension of relevant team management, and may result in match overturn.
7.2.5. – Substitution can only happen BEFORE the match/map starts OR only AFTER a match/map ends.
7.2.6. – No substitutions can be made in the middle of an ongoing match/map, regardless of the situation.
7.2.7. – The substituted player will not receive additional time to set up compared to the time it would have taken with the original player.
7.3. – Stand-ins
7.3.1. – By definition, a stand-in here refers to a player who hasn't been registered to a team on the registration form but wants to play for a team after registrations close/matches commence.
7.3.2. – At LAN tournaments, the use of a stand-in is allowed but they have to be presented and registered at the Registration Desk before they are used.
7.3.3. – The use of a stand-in in online tournaments is strictly prohibited and is grounds for disqualification.
7.3.4. – This applies to account sharing as well. The Free Fire account that was used during registration should be the only one used for playing.
7.3.5. – In LAN tournaments which have qualifiers (such as SLCG), no player that played in any other team at any qualifier that was completed can be used as a stand-in.
8. MATCH RULES
8.1. – Devices
Emulator players are allowed to participate in the tournament.
8.2. – Pauses
There will be no pauses in the game.
8.3. – Disconnects
Players who disconnect during a match will be able to reconnect to the game. However, the game will continue during the period.
8.4. – Technical issues
At LAN tournaments, players should raise their hand and immediately contact Tournament Staff in the event of a Technical Issue. Staff will then assist to rectify the situation and the necessary action. Failure to report issues in a timely manner may cause the issue to be disregarded by the Tournament Staff. At online tournaments, technical issues will not be considered.
8. GAMEPLAY RULES
9.1. – Abuses & Exploitation
Exploiting game or map bugs/glitches/flaws ("exploits") for the purposes of gaining an unfair advantage is prohibited. Exploits that are not specifically named here are still prohibited but will be dealt with on a case-by-case basis. Tournament Staff reserve the right to decide what will be deemed as an exploit or abuse.
9.2. – Hacking
Hacking or otherwise modifying the intended behavior of the game client is prohibited.
9.3. – Scripting
The use of scripts are prohibited.
9.4. – Use of Macros
The use of macros are prohibited.
9.5. – Use of Third Party Softwares
The use of any third-party addons, hooks, programs or wrappers that interact with or alter the client, its appearance or behaviour for the purposes of gaining an unfair advantage is prohibited.
9.6. – Impersonations
Impersonating an eligible player by attempting to alias as them, using their account or by any other method is prohibited and will result in the aliasing player and the player they are aliasing as being removed from the tournament.
9.7. – In-game names
Each player must have his/her primary nickname or something very similar as his game name during all matches to be easily identifiable for referees, broadcasters, and viewers. What counts as similar is for the Tournament Staff to decide. The only additional information allowed in a player's ingame name is clan tags or sponsor names.
9.8. – Collusion
9.8.1. – Collusion, match fixing, bribing a referee or match official, or any other action or agreement to intentionally influence (or attempt to influence) the outcome of any match or Event.
9.8.2. – Other forms of collusion include:
– Teaming: Players working together during the match
– Planned Movement: Agreement between 2 or more opposing players to move through the map in a planned way before the match begins.
– Communication: Sending or receiving signals (both verbal and non-verbal) to communicate with opposing players.
– Item Dumping: Intentionally dropping items for an opposing player to collect.